Monday Tip : House Insurance
June 13, 2022 at 11:09 AM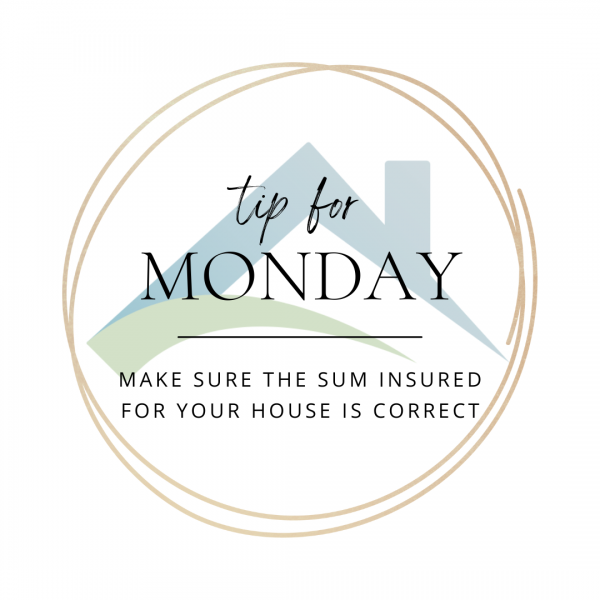 House insurance is generally sold by insurers on a "sum insured" basis.
What is Sum Insured?
It is the maximum that would be paid as the likely cost to rebuild your house on its current site. The sum insured is not the market value of your house, it should cover the full rebuild of your home including things like additional structures (e.g deck), demolition, debris removal, legal and professional services.
TIP – It is important to make sure you have sufficient sum insurance in place. It is your responsibility to ensure the sum insured is enough to rebuild your house in case of total loss and to also keep this figure undated. If you have a home loan, the bank will generally make sure the sum insured over the house acting as security meets their needs, however it may not meet yours in the event of a full rebuild.
How do I calculate the sum insured?
You can use the online Cordell Sum Sure Calculator. The Cordell calculator is an independent online tool and is free of charge. This online tool will give you a rough idea of the cost to rebuild your home but it will not take into account any special features of your house or if it is architecturally designed. This estimation is generated without a physical inspection of your home so it may exclude things like multiple construction materials (e.g brick and weatherboard). So, you may want to consider getting a professional valuation to ensure you're sufficiently covered – please note this will come at a cost.
Link to the Cordell Sum Insured Calculator: https://sumsure.corelogic.co.nz/#/products/8/profiles/219
Disclaimer:
The Cordell Sum Sure calculator takes the answers you input (or confirm, as applicable) and analyses them against construction industry data collated by Core Logic NZ Limited to generate an estimated reconstruction cost of the improvements on your property. Use of the Cordell Sum Sure Calculator and any estimated reconstruction cost provided by it may not be appropriate for you and you will need to assess this given your knowledge of your property. The estimated reconstruction cost does not constitute a recommendation or opinion in relation to taking out or replacing an insurance policy. It is not personalised financial advice. It does not take into account your particular financial situation or goals.
Please ensure you read the Disclaimer available on the link provided above.
For the avoidance of doubt, Mortgage Field accepts no responsibility for the accuracy of any information in, or results derived from, or any reliance you place on, the calculator.
Please contact your trusted insurance professional/ advisor to review your House Insurance needs and goals.
Category: News Room